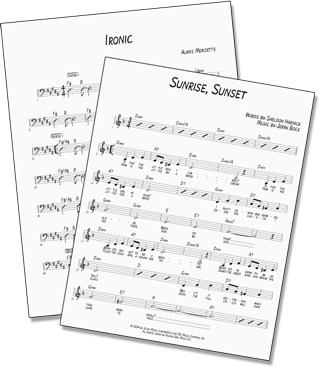 If you need to put music in front of musicians, I can help. From copying movie scores by hand in Los Angeles to chord charts for bands using the latest computer software, I've been exposed to almost every kind of copying challenge.
I started out being trained by professional copyists in Los Angeles. I learned the hard way - using a calligraphy pen and drafting triangle. Copywork was an artform then, and I believe it still is today. Sure, the tools have changed to computer software, but an easy to read chart or score doesn't build itself.
Musicians regularly comment on the quality of my charts. Good copywork makes your recording or performance a pleasure. Having someone who knows how to correctly notate harp pedal changes may not be your specific need, but that kind of experience can produce parts that will cut hours or even days off of expensive time in the studio and reduce clams on stage.
Maybe you just want to preserve your performance on paper. Give me your recording and I'll produce for you a score, parts, or rhythm charts.